Battle Review: Chaos Space Marines vs Astra Militarum
Wednesday night I played a 1,500 game with my Chaos Space Marines against Astra Militarum. This was my 4th game in Warhammer 40K 7th edition and I felt like trying something different. My force was very Khorne heavy. I won't post the exact list but it featured Kharn, Berzerkers, Karanak, Bloodletters and Flesh Hounds. I thought I would try running counter to the psyker heavy lists people are trying out. Of course, my opponent had no pyskers and his army was all meched up. In fact, he had a Stormsword Baneblade, which he asked me if he could use. I figured why not. My Khorne heavy force is going to have a rough go with the match-up anyway, let's make it more interesting.
The Game
We played a Maelstrom of War mission, the one where you have 3 cards each turn and they are kept secret until you achieve them. It was also hammer & anvil deployment. The table was a pretty dense ruined city and so I setup in cover with my Spawn and Maulerfiend on the left flank and most of the rest on the right flank. He setup to make use of the fire-lanes and kept the Stormsword back behind the rest of his force on my left. The game can be summarized pretty easily: I rushed forward. The only ranged shooting I had was a plasma gun in a 5-man Chaos Space Marines squad in a Rhino but I was holding them back in my deployment for objective maneuvering. Everything else of mine needed to assault to be effective. That's a Khorne heavy force for you.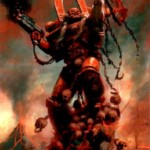 I lost my Maulerfiend out of the gate to the Stormsword. I feed him the Maulerfiend early to buy a turn of moving the rest of my force, which worked out. I got into his tanks with Spawn and Hounds on turn #2 and destroyed them. The following turn my Berzerkers got into a Leman Russ and Kharn smashed that apart. My reserves weren't arriving however and between the Stormsword and the rest of his force I was taking a pounding. When my Bloodletters did arrive the Stormsword and Veterans mowed them down to a single model, same with my Hounds. My Raptors came in turn #4 and glanced the Stormsword with meltaguns. I then sent Kharn, the Berzerkers were all dead, into the Stormsword and he got it down to a single hull point. Kharn is an animal at tackling vehicles on the charge. I was not able to get that last hull point off of it during the rest of the game and that Stormsword picked apart the rest of my army.
Conclusion
At the end of the game I had two Chaos Space Marines left alive. I did some damage though and he had the Stormsword left (that damn last hull point still on there), a Chimera with Veterans and another Veterans squad on foot left. The final score was him winning 13-11.
It was a damn close game and a ton of fun. The Maelstrom missions really allow for comebacks, which I like. I had taken a big lead early on with it being 9-3 at turn #3. He fought back though and used his speed to his advantage to position the Veterans on objectives. Only taking a 2pt loss in a game where I had a Khorne heavy force against meched up Astra Militarum and a Stormsword is a victory to me. This game also lead me to realize that I really like a Khorne heavy force. I have always favored aggressive armies so it's not terribly surprising. Rarely, however, have I gone to such extremes with a list to almost solely focus on that one element, the assault phase. I'd like to think I'm a tactical thinker and enjoy the nuances of a tricky list but at the same time I'm all about bringing a sledgehammer as well. I'll have to see where this more blunt approach takes me for a little bit. Who else has been facing a Lord of War in 7th edition and what do you think about them? They're toned down from what they once were but still powerful. Do you want to be asked if one can be used against you or are you all-in now it's a part of the Force Organization Chart?