March 3, 2019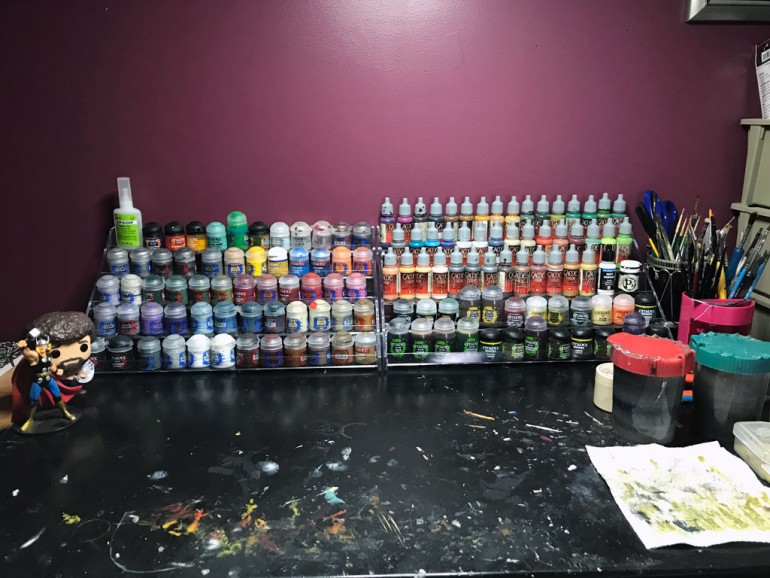 Chronicles of Thor #7: Blood Bowl, Painting Tutorials & Organizing
It's been a busy month for me and I feel like I've gotten quite a bit accomplished.
Let's see…
Disclosure: Some of the links below are affiliate links, meaning, at no additional cost to you, I will earn a commission if you click through and make a purchase. The commission earned helps maintain this site.
Undead Team (Cryptkickers)
If you missed it, I managed to get my Undead team all painted up for Blood Bowl, who I have named the Cryptkickers.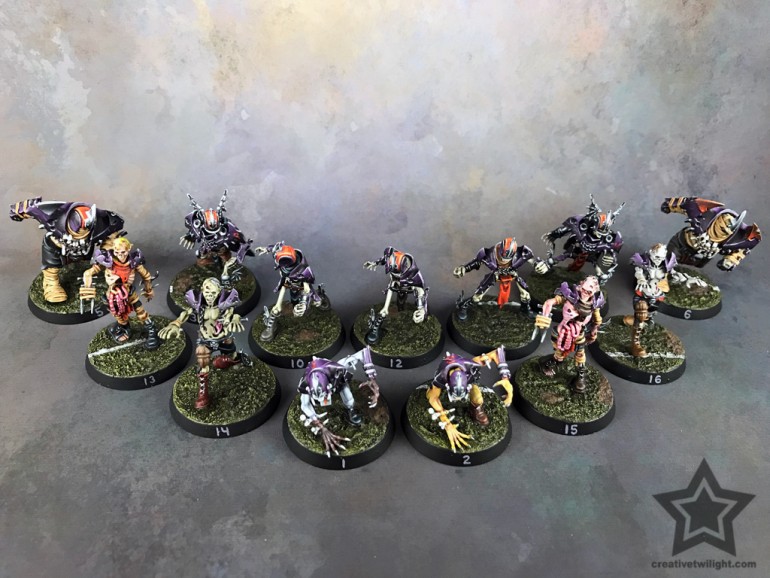 I had a blast working on the team and managed to get them done early for #Squaduary.
Next week starts our 4th season of Blood Bowl at my FLGS, hence the rush on the team. Here's the roster I've come up with:
Ghoul x 2
Wight x 2
Mummy x 2
Skeleton
Zombie x 4
Re-rolls x 3
That puts me at at TV of 970,000.
My planned purchases are going to be getting two more Skeletons to round the roster out at 13 players. Zombies are great, but I really want to see how the Skeletons work out with their better movement. I figure against faster, more agile teams that they'll be good on defense. The lower armor stinks, but that's the tradeoff. Plus, I just like the models ;)
I haven't really played Undead in years, but I did get in a practice game last week that ended in a 2-2 tie against Humans.
The game was great and I managed to injure 5 Human players, however, you just can't count Humans out, ever.
Site Tutorials
In my continuing, ongoing efforts to create more tutorials, I got two more added this month. Well, one is more of guide.
The first is on edge highlighting. It's one of those things that's really easy to do with a little guidance, but it really intimidates a lot of people so they just don't bother doing it.
I do plan to add some more to that tutorial in time, with some other practical examples on models I'm actually working on, but for now I think it's pretty good and should at least get someone on the road to edge highlighting.
The other article I did was the guide on how to start painting miniatures. That's geared for someone completely new to this awesome hobby. If you've never done any miniature painting then there's a lot to learn once you've picked up that first box of miniatures for your army, warband, etc.
As I continue to add more painting tutorials for the basics, I'll sprinkle those through that guide to get someone from unpainted model to finished model. That's the goal, and it's going to take a while, but I'll get there.
Paint Storage
I have been in this hobby since 2006. In that entire time I have not had any real organization to my paint. It's not a big deal when you're starting off and only have 10-20 paints. However, as we all know, over the years those paints add up and suddenly you've got 133 paints you need to organize.
Having those paints clutter up my desk was something I had grown used to. The problem was the lack of organization. I would sometimes spend minutes just hunting down the right paint.
Minutes doesn't sound like much, but when you're doing that for most of the paints you're using, and you're using 20 different paints on a model, that adds up.
So, having seen others use these, I went to Amazon and hunted down some nail polish storage racks. These things are super affordable and store the paint in a tiered step setup.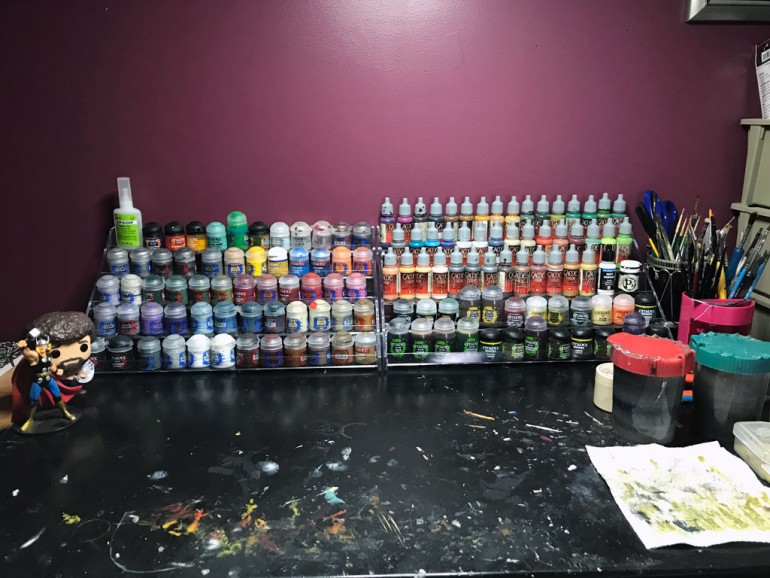 As you can see, I managed to get all 133 paints on there (2 storage units) and I have a few spots open. The problem now is space is tight for expansion, but I'll deal with that as the time comes.
The shelves are made of a clear acrylic and are pretty sturdy, surprisingly so.
I really like the tiered setup so you can see everything, and the fact it sits on my desk means they're easy to get to, compared to the wall mounted paint racks I've seen others use.
Anyway, it's amazing to finally have all those paints organized and my desk feels twice as big now.
I highly recommend these to anyone wanting to organize their paints without spending a ton of money.
Wrap-up
At the moment I don't have anything on deck for painting but that's alright. I've done quite a bit of painting the past few months, and feel like focusing on the site a bit for a while, so it all works out.
March is going to be really busy for me personally as well. My wife and I are wrapping up working on her parent's house that we inherited to get it on the market for April. So, lots of long weekends are planned to get the final details done.
It's going to be a huge relief to just have that ready to sell, and an even bigger one when we do sell it.