October 6, 2011
Hobby: WIP Chaos Terminator

In a earlier post I mentioned I had finally come up with a paint scheme I was happy with. Here's the concept: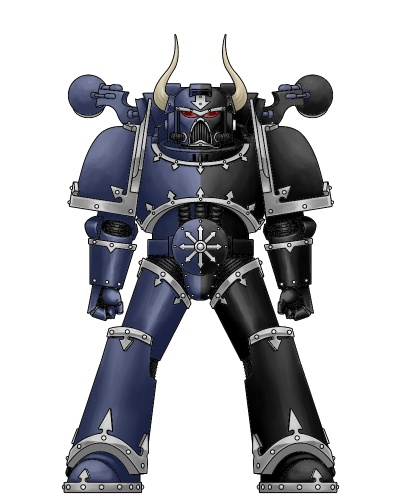 To re-cap, the warband is called Disciples of Twilight and they're undivided. The cult troops are painted appropriate for their god and the undivided will use the scheme above.
I started painting a Chaos Terminator just to see what I thought of it. I just realized I reversed the black and blue from the concept above, oh well.
I haven't gone through and cleaned anything up and this is just one coat of each color just to get a feel for it and I really like it. I wasn't sure if the half scheme would work out as well as I wanted but I admit I'm happy with how it's looking so far. The one thing I'm pondering is the loin cloth, what color to go with there. Black would be an easy call but I'd rather do something else. I think a contrasting color would work well there but nothing too stark of a contrast. Thoughts?