June 10, 2016
Painting Question on Battle Damage
As many of you know, I'm working on painting up my Chaos Knight. It's a blast to paint, but one of the things I'm struggling with right now is battle damage. My Chaos Marines are not painted with battle damage. It was a choice I made when I started the army. However, the Chaos Knight upgrade kit has battle damage built into it. I have nothing against battle damage, and I love the look when it's done well, so I have to work out some concepts.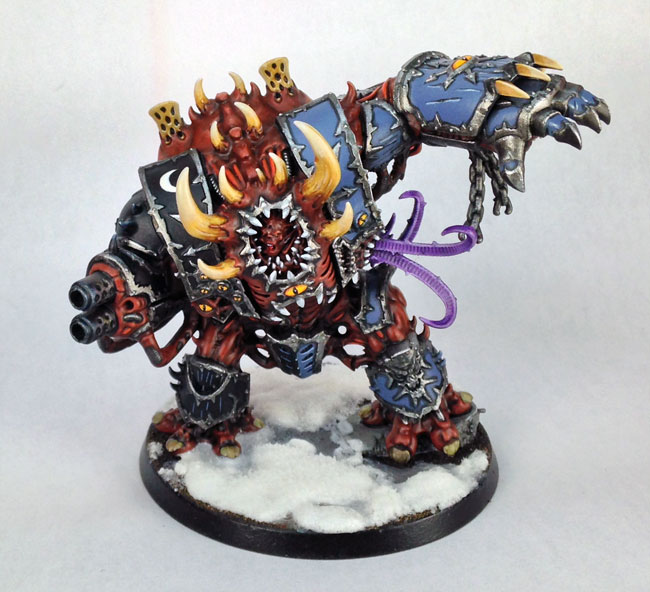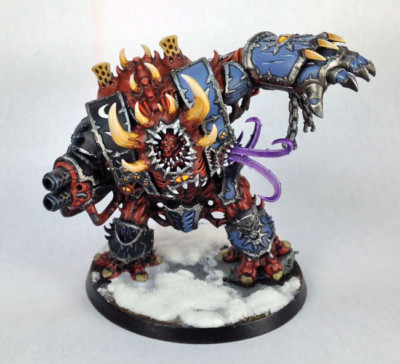 Let me explain the dilemma. My paint scheme is a half scheme. One half is black, the other half a blueish grey. So, how I tackle this needs to work on both colors, not just one. I really like the look of the more stylistic battle damage, as I call it, where you create scratches and chips using a darker base color, and then highlighting it to give it depth. You can see it on this Helbrute I did, on his Power Fist and left shoulder.
Now, the problem with doing this on black is it's flat. You can't create depth on black, so all you end up with is a highlight. Looking at the same model, note the black shin area. You see those stray looking highlights? Yeah, that was me trying to use the same technique on black for consistency. You can see how it's just meh, and not very convincing at all.
Some people will do weathering and have the paint chip down to primer. It looks good, but for me battle damage is more than superficial paint chipping. Getting cut by a chainsword is going to do more than chip paint to primer; it's going to eat through all layers down to the armor itself. That being said, just doing a bunch of spots with metal showing through tends to be flat, and not visually interesting.
I have a few thoughts. One, do a combination of the stylistic damage and the metal showing through approach. The stylistic approach I could pull off on the black in spots where I have blended it up to a lighter color, so it's not just flat black. On the areas where it's just black, there I could do the metal weathering. I would then apply the same on the blueish side, a mix of both approaches to keep it consistent across the model.
The problem with that approach is it might look a bit busy. I know the reality is that damage comes in different forms, and in turn creates varying degrees of damage. Some might be superficial, others with more depth, etc. However, when you start mixing so many techniques for battle damage then you run that risk of going too far, and making it confusing.
My other idea is to go with the metal showing through, but to darken it a lot. If I can get the metal dark enough, but still look metallic, then I could still do edge highlighting to give a sense of depth. The trick there is finding the right balance so it still looks like metal on the black, and doesn't just fade into it too much.
A last idea is a mix of primer and metal. You'll see below, I captioned it, but to have spots with primer, but you then come in with metal for the center areas, leaving an edge of the darker primer. Of course, on the black side you would only see the metal, no primer. I imagine that black would be the primer color considering my color scheme, thus invisible on black. Unless I choose to go with a dark grey for the primer, then you'd see that. I think it would look off to have a grey primer showing only on the edges though, filling center with metal, because then it would look like a highlight all around it.
*sigh*
I've done a lot of research, and I just haven't been sold on any approach yet. Here's some of the stuff I've dug up for reference.
I would love to hear what you all think about it. Jeff from Tibbs Forge and I chatted about this in the comments on the last Wargaming Bloggers Showcase, and in turn prompted this post.
I have since created my own tutorial on battle damage weathering using a lot of the above as resources and guides.