August 29, 2012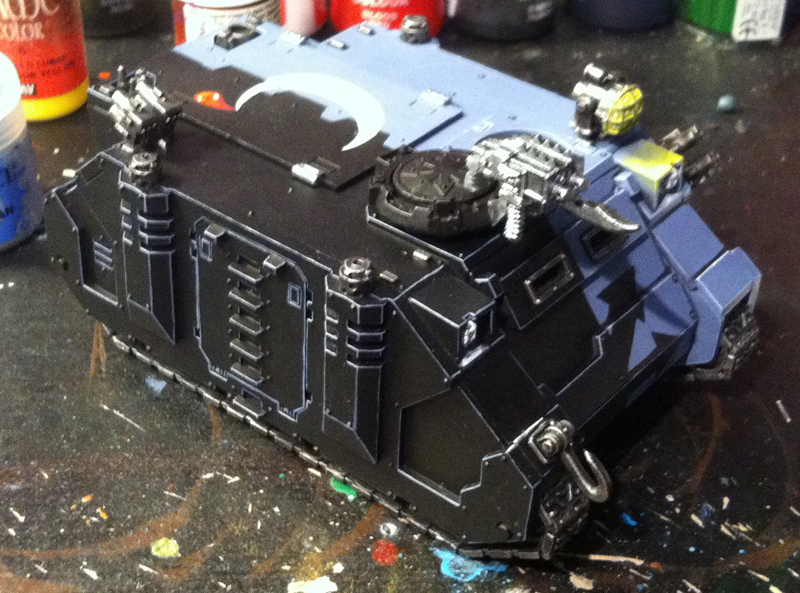 Thor's Workbench: Overload
Like most out there, my workbench is a never-ending stream of projects. I'm trying to get my army painted for an upcoming tournament at my FLGS in the fall as well as get much-needed models assembled and useable. So, this week I'll show off three such projects. First up, the WIP painting on my Rhino. As always, lighting isn't setup for great shots, and I'm using my phone for them, since these are just WIP shots.
At this stage it's about 95% complete. The preliminary highlights are on the Rhino itself and I just need to do some cleanup and get the extreme highlights on there. The bolter, front hatch and rear hatch are in various stages and I'll wrap those up once the Rhino is complete.
Next project, which is complete at this stage, was assembling some Havocs. I bought these last week and got a good deal on them. I hate metal models but it was hard to argue with the price and they were ones I needed. I'd like to get the plastic box but only getting one of each weapon makes it hard to justify buying it.
Last up is the Defiler I began work on the other week. Since then I got all the mold lines clean up, gaps filled, torso and right side weapon magnetized (still have to do the left), and put it all back together.
Once I got it back together I realized I'm missing one of the leg plates as well as the blast shield that goes on the battlecannon. I do also need another close combat weapon for the left mount. I was hoping to get some paint on this soon but it's going to have to wait until I can get those bits I need.