Battle Report: Chaos Space Marines vs Space Wolves
Another week another game. As has become the course lately, I played a 1,650 40K game last night against Space Wolves with my Chaos Space Marines, Disciples of Twilight. I had the same list I'll be running for a while as I play test for a 40K tournament next month. Speaking of, it's this list.
Chaos Space Marines – 1,650
HQ
Huron Blackheart
Ghostwrath (Daemon Prince) – Wings, Power Armor, Mark of Nurgle, Spell Familiar, Psyker (M2), Gift of Mutation
Troops
Chaos Space Marines (10) – Icon of Vengeance,Meltagun x 2

Apsiring Champion – Melta Bombs
Rhino – Dirge Caster

Chaos Space Marines (10) – Icon of Vengeance, Plasma Gun x 2

Apsiring Champion – Melta Bombs
Rhino – Dirge Caster
Fast Attack
Spawn (5) – Mark of Nurgle
Heldrake – Baleflamer
Heavy Support
Obliterators (3) – Mark of Nurgle, Veterans of the Long War
Maulerfiend – Lasher Tendrils
The Game
We played the Maelstrom of War mission Tactical Escalation where you start with one card and gain a new one each turn. I got side choice and my opponent, Jared, got first turn.
Jared's shooting was ineffective with his lascannons rolling 1's for armor penetration. Most of his army had advanced forward, staying near the center. Termies landed in a Drop Pod on my right flank, near my Spawn. I had infiltrated Huron and Obliterators to the board center, hiding behind a building, and first turn the Skyclaws charged them. Huron killed off two of the ten with his overwatching heavy flamer and then proceeded to kill three in melee. I took no wounds in return and then the Obliterators pasted all but one but that one guy stuck in the combat with snake eyes.
I advanced forward and sent my Spawn for the Terminators as well as my plasma Marines in their Rhino. Shooting saw me kill off three Terminators (horrible rolls by Jared), and then my Spawn charged in and finished off the squad. Huron and the Obliterators finished off the last Skyclaw.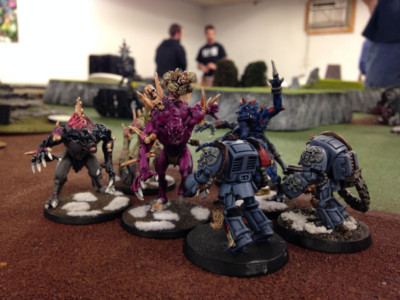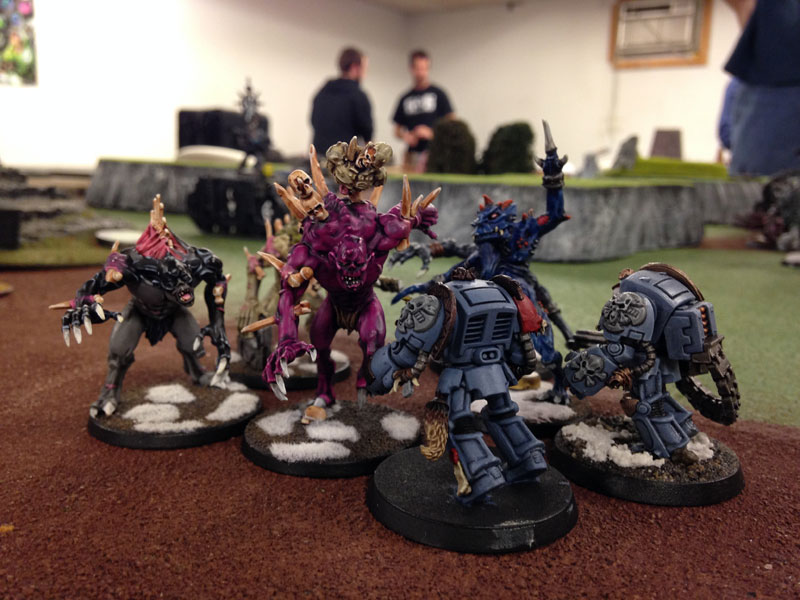 Grey Hunters and Muderfang stayed near the center. Jared had another bout of horrible shooting but he did take a power fist off my Maulerfiend. My Heldrake arrived and did nothing of note. Obliterators fired plasma cannons at Long Fangs, destroyed four and the remainder ran off the board. The Maulerfiend charged Muderfang and they each put a hull point on another but my Maulerfiend got immobilized. The Spawn charged into Grey Hunters and did nothing. At this point the game was something like 3-2 my lead.
To summarize the rest of the game, as I find turn by turn to be meh, Murderfang took out my Maulerfiend. My Spawn got swamped by Grey Hunters and eventually taken down, opening up the right flank, which he then marched down. My Prince had continued up that left flank and charged the Long Fangs, killing all but one who ran but later regrouped. My Obliterators and Huron controlled the board center along with my Chaos Space Marines with meltaguns. The Prince later came to help secure the board center and finish off Muderfang alongside Huron and my remaining Obliterator. The Heldrake of course proved a nuisance to everything with his baleflamer.
With the board center secured I was able to start claiming a lead. We went six turns and at the end I had won 10-7.
Game Gallery
Game Thoughts
It was a fun game but Jared really had some bad luck with rolls. If his lascannons managed to hit, which was way less often than it should have been, he continually rolled 1's for armor pen. His Long Fangs should have been a lot more effective than they were. That terrible luck let me position where I wanted to be and deal with the Long Fangs. Once the Long Fangs were neutralized it was down to close combat, which is what my list does well.
The early charge by the Skyclaws didn't do Jared any favors either. With Huron and the Obliterators being hidden he wasn't able to get wounds in before the charge and took the full force of the unit in return. Had he held those back a turn or two so he could get a few rounds of shooting into my army and then used them to charge a weakened part of my line they would have been more effective.
My List
Unsurprisingly, the more I use my list the better I'm getting with it and the more I like it. On paper I don't think it's that threatening but I'm managing to wield it effectively and that's what matters. This is the first game I've had where Huron was more than a support character so it was nice to see him smash some heads. Using my Daemon Prince to fly down a flank and threaten support unit worked out well for me as well.