Battle Report: Khorne Daemonkin vs Eldar
Last night I played against Kamui and his Eldar. It was his first run using the new Eldar codex. We decided to play a 1,650 game. The Maelstrom of War mission we played was Cloak and Shadows.
I tossed together a list, nothing special. I had no particular goal in mind with the list, just something fun to mess with.
Disciples of Twilight (Khorne Daemonkin) – 1,650
HQ
Soulgore (Chaos Lord) – Sigil of Corruption, Juggernaut of Khorne, Melta Bombs, Power Fist, Axe of Khorne, The Skull-helm of Khorne
Elites
Gorgons (Terminators) (5) – Reaper Autocannon, Combi-melta
Troops
Vengeance (Chaos Space Marines) (10) – Plasma Gun x 2

Aspiring Champion – Meltabombs, Power Sword
Rhino

Redemption (Chaos Space Marines) (10) – Meltagun x 2

Aspiring Champion – Meltabombs, Power Sword
Rhino
Fast Attack
Heldrake – Baleflamer
Flesh Hounds (10)
Heavy Support
Deathcry (Helbrute) – Twin-linked Lascannon, Power Fist
Hellscream (Helbrute) – Multi-melta, Power Fist
Forgefiend – Hades Autocannon x 2
The list is lighter on close combat units than usual but it was intended. Khorne is all about smashing heads but I also need to be able to shoot open armor. Trying to find that balance with the right units is the tricky part of Khorne Daemonkin.
The Game
Kamui got to setup first and spread his army out pretty well across his entire deployment zone with a heavy center. In response I setup a refused flank on the right, hiding behind a hill to minimize his Wave Serpent and Falcon shooting. I put my Lord and Hounds in reserves to outflank, Terminators to deep strike and of course the Heldrake in reserves.
Kamui pretty well sat in position with the tanks shuffling a bit to get line of sight. Most of Kamui's shooting went into my Forgefiend but nothing got through. I did take a glancing hit on one of my Rhinos though.
I sent my plasma Marines in their Rhino towards the board center while the right flank advanced up. The Forgefiend unloaded into a Falcon but the glance and penetrating hit were saved by the Holo Field. My Helbrute did get a weapon destroyed result on the same Falcon though. I got one point for an objective, 1-0.
The Swooping Hawks arrived and landed near Kamui's deployment board edge. His shooting saw my Rhino near the center wreck (first blood). My Helbrute lost his lascannon on the right flank. Score: 1-2, Kamui's lead.
I took Feel No Pain this turn with the Blood Tithe. Terminators decided to show up. I dropped them left of board center to be in melta range of the Serpent and also to draw fire. I continued advancing on the right flank and the Forgefiend took down the Falcon on that side. My Terminators managed a glance on the Serpent with the combi-melta (always my luck when in melta range).
As expected, Kamui's jumped his army out of their transports and lined up the Terminators. They took a ton of shots and one lived through it. My Rhino on the right also went down and those Marines were pinned.
I went with Feel No Pain again this turn. The Heldrake decided to arrive and put nine wounds on the Dire Avengers with Asurmen. Asurmen decided to tank what he could, taking two wounds after the first three Dire Avengers were killed off. I put some shots into Kamui's center mass to kill off a few Rangers and Swooping Hawks. Score was something like 4-5, Kamui's lead.
The game continued to be a slow grind. A lucky shot by Fire Dragons downed the Heldrake. I got my Helbrute and Marines into combat at the board center. The Helbrute swept the Guardians he charged and my Marines were stuck-in with Warp Spiders. My Lord and Hounds finally showed up on turn #4 and hid behind a hill. My previously disembarked Marines failed morale and ran after being thinned out with more shooting. Fire Dragons got behind my remaining Helbrute and smoked him. Soulgore and Hounds charged into a Guardian squad and killed them all off.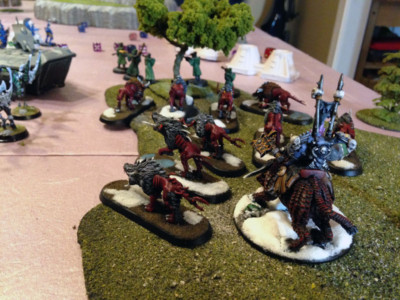 We rolled a sixth turn but it was late so we called the game at a draw, 9-9.
Wrap-up
Well, I didn't get smoked by Eldar like usual but it was close. Kamui had the advantage most of the game but good card draws kept me in it even when my reserves decided to arrive haphazardly. I don't like to reserve so much normally but I also knew that advancing those units normally would see them dead anyway. It also left me fewer units to deploy and allowed me to get them all cover behind a hill.
A fun game and a bloody fight for both of us. Neither of us had much left but that's generally how my games with Khorne go. Well, as long as I'm not getting my ass kicked anyway :)