Chaos Space Marines: 1,500 List Idea with Possessed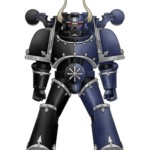 This month is a 1,500 40K tournament at my FLGS. With the holidays having kept me busy, I have not had a lot of time to consider lists for the tournament. Yesterday I managed to get in a game, the first in about three weeks – which is a loooong time for me, and I got destroyed. The list I was working with was an experiment and thrown together quickly. I took away a few things from the game that I'm applying to this version of the list.
I was hoping to get some feedback on the list to see what you all think. The big thing I'm working with is Possessed. Possessed from Crimson Slaughter are troops and get, arguably, a better random table for abilities they roll on each turn, Slaves to the Voices. This is a unit that I had never fielded and have always wanted to. So, that's what I'm trying to do.
Chaos Space Marines (Crimson Slaughter): 1,500
HQ
Warforce (Sorcerer) – Psyker (Mastery Level 3), Bolt Pistol, Force Weapon, Prophet of Voices, Mark of Tzeentch, Melta Bombs, Balestar of Mannon
Troops
Possessed (10) – Mark of Tzeentch

Possessed Champion
Rhino – Dirge Caster

Chaos Space Marines (10) -Meltagun x 2, Icon of Vengeance

Aspiring Champion – Melta Bombs
Rhino – Dirge Caster
Fast Attack
Spawn (5) – Mark of Nurgle
Raptors (5) -Meltagun x 2
Heavy Support
Obliterators (2) – Mark of Nurgle
Obliterators (2) – Mark of Nurgle
Maulerfiend – Lasher Tendrils
Most of this is pretty straight forward but to explain a few things. The Sorcerer has the Balestar of Mannon. That relic gives him access to Divination and can re-roll failed psychic tests. The other relic on him, Prophet of Voices, grants him Daemon, Fearless, Fleet and he gains the Slaves to the Voices rule. This means he effectively becomes a Possessed and can only join Possessed. The point of it being he gets all the random effects the Possessed do, plus being a Daemon means he comes with the 5++ and there's no need to buy it separately. So, I can get him to a 4++ with Mark of Tzeentch relatively cheap. The Sorcerer joins the Possessed and does his psyker stuff to support the unit and help ensures their survival.
Speaking of, when I played my Possessed last night I ran them with Mark of Nurgle. It worked out well but I do want to try the Mark of Tzeentch on them since it makes them a 3+/4++. I think the thing with these guys, as they're on foot, is surviving to get into combat. Having T5 from Nurgle helps there too, but with the meta where I play there's no shortage of AP3 – and better, weapons that will unload on them crossing the board. Ultimately I'll have to run them each way a bit to gauge what works out better.
The 5-man Raptor team is an experiment as well. It's a cheap way to get fast moving melta into the list and I can deep strike them if needed. I love Raptors but running them at 10 strong all tooled up just never works out as well as it should considering their cost.
What I want to ensure is that the rest of my list supports the Possessed, be it directory or indirectly. That Possessed unit is 310pts and the Sorcerer is 185pts. That's a lot to tie up into one unit at 1,500 points. I don't mind point heavy units so long as I can support them and use them well. Goes without saying, but I will anyway, the list is not intended as really competitive. It's intended to be fun and let me try out a unit I think is cool. That being said, I'd like to have a successful experiment :)
Thoughts, comments, suggestions and feedback welcomed!