Chaos Space Marines 1,750 Daemonic Engine List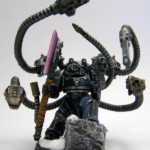 Normally I don't solicit feedback for my lists but I thought I'd try something new and see how it goes.
So, I'm working on a 1,750 list for a tournament in December at my FLGS. It's not a special tournament, just a normal monthly one that they do. Nothing big on the line here, just a fun day of gaming and maybe winning a few bucks in store credit. Therefore I'm not looking to destroy opponents or anything, however not getting destroyed all day would be nice. To that end I wanted to see what people thought of this list.
The idea is to pack in daemonic engines since I love the suckers. I also like the Warpsmith despite not being the best HQ option out there; he just fits into the list for obvious reasons. I considered a second Warpsmith but it comes down to that or the second Helbrute basically; tough call. Ultimately I feel the list will be more effective with saturation so I went with the second Helbrute.
Here's the list concept.
Chaos Space Marines – 1,750
HQ
Grimtech: Warpsmith – Bolt Pistol, Power Axe, Mark of Nurgle, Aura of Dark Glory, Blight Grenades, Melta Bombs
Elites
Helbrute – Power Fist, Twin-linked Lascannon
Helbrute – Power Fist, Multi-melta
Terminators (4)

Terminator – Combi-melta, Power Maul
Terminator – Combi-bolter, Power Fist
Terminator – Heavy Flamer, Chainfist
Terminator Champion – Combi-bolter, Power Axe
Land Raider – Twin-linked Heavy Bolter, Twin-linked Lascannons x 2, Dirge Caster, Dozer Blade
Troops
Chaos Space Marines (10) -Meltagun x 2, Icon of Vengeance

Aspiring Champion – Meltabomb
Rhino – Dirge Caster

Chaos Space Marines (10) – Plasma Gun x 2, Icon of Vengeance

Aspiring Champion – Meltabomb
Rhino – Dirge Caster
Fast Attack
Heavy Support
Maulerfiend – Power Fist x 2, Lasher Tendrils
Defiler – Battle Cannon, Reaper Autocannon, Twin-linked Heavy Flamer, Power Fist x 2, Dirge Caster
I've run a list similar to this in the past and done alright with it. The big change-up in this from my previous attempts is giving the Warpsmith a Terminator retinue and tossing them into a Land Raider. Typically my Warpsmith rides with Marines in a Rhino. It works, it's cheap but the Rhino always dies and then the Warpsmith goes down to overwhelming fire power or precision hits. So, the Land Raider obviously holds up better than a Rhino and his retinue is there to keep him safe. I won't be using it offensively normally, unless the situation warrants it, but instead hanging back a bit to give fire support, advance to fix things and plug gaps in my line.
The rest of the list speaks for itself I think.
What do you think? Feasible, terrible, cool idea? Feedback is welcomed.