Crimson Slaughter – 1,500 List Idea for 40K
This month at my FLGS there's going to be a campaign. Normally we do monthly tournaments, but we all decided a single day campaign would be fun. I decided I need a break from my Khorne Daemonkin again, so I decided to go in a different direction with a psyker focused Crimson Slaughter list.
Disciples of Twilight (Crimson Slaughter) – 1,500
HQ
Maelstrom (Sorcerer) – Psyker (Mastery Level 3), Combi-bolter, Force Weapon, Terminator Armor, Mark of Tzeentch, Spell Familiar, Sigil of Corruption
Warforce (Sorcerer) – Psyker (Mastery Level 3), Bolt Pistol, Force Weapon, Sigil of Corruption, The Balestar of Mannon, Daemonheart
Elites
Gorgons (Terminators) x 5 – Mark of Tzeentch, Reaper Autocannon, Combi-melta and assorted power weapons.
Troops
Redemption (Chaos Space Marines) x 10 – Meltagun x 2, Icon of Vengeance

Aspiring Champion – Melta Bombs
Rhino – Dozer Blade

Vengeance (Chaos Space Marines) x 10 – Plasma Gun x 2, Icon of Vengeance

Aspiring Champion – Melta Bombs
Rhino
Fast Attack
Chaos Bikers x 5 – Mark of Nurgle, Plasma Gun x 2

Biker Champion – Melta Bombs
Heavy Support
Devastation (Obliterators) x 3 – Mark of Nurgle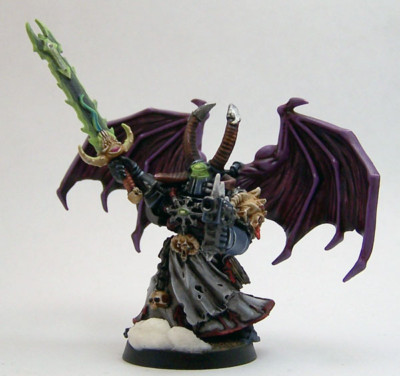 I basically built the list around the Sorcerers. The last time we did a campaign (longer ago than I realized…), I used Warforce to lead the army. It was in that campaign that he got his name and I wrote stories around him. Prior to that campaign, in another previous, I created Soulgore. I wanted to do the same with Maelstrom. The name is something I gave him as a placeholder since he rarely gets on the table at all. So, I thought I'd use this as a chance to establish my Terminator Sorcerer, and probably get him painted too since he's been unpainted for about five years now.
Maelstrom is Tzeentch and setup with a 2+/3++. He will hang out with the Terminators, also Tzeentch. Warforce will be going with the Obliterators. The Balestar of Mannon gives him Divination access (hello Prescience), and also re-roll failed psychic tests. The Daemonheart gives him a 2+ and It Will Not Die. I wanted both of these guys to live and fit in with their bodyguard. They aren't going to do great in combat, but hopefully hang in there for their bodyguard to save them. It's a hefty investment but it's two M3 Sorcerers, and both have re-rolls on failed psychic tests. Hopefully it works out.
The Marines will do what they do, ride around and shoot stuff. The same for the Bikers really; my one fast unit to zoom around to snag objectives, or harass the enemy. I had some points left over so I gave the Bikes Mark of Nurgle since you can never go wrong with T6 Bikes.
Overall the list is more elite than I've been playing lately. It's low on model count and, hopefully, putting quality over quantity. I'm also going to be relying a lot on the Socerers, but CSM Sorcerers with re-rolls are some of the best psykers. The army is probably not going to do anything amazing, but as long as it can hang in there, and create some cool moments for the campaign, I'll be happy.
Thoughts, suggestions and feedback welcomed.