Lessons Learned: My Chaos Space Marines
Yesterday was a 1,650 tournament at my FLGS. As usual, I played my Chaos Space Marines, Disciples of Twilight. I had not managed to play in any monthly tournaments for a past few months so I was looking forward to it. Over the past few months I have slowly but steadily been improving and finally managed to get a positive win ratio in 7th edition.
First up, I had a great set of games, no complaints. However, I only managed to go 1-2 on the day. The first loss was only by 4pts but the final loss was by 9pts. The win I managed was by 4pts. So, I had a great day playing 40K but I took a pounding and tied for last place.
Chaos Space Marines List
The list I was running was a test for the Standish Standoff 4 (SS4), which is the big 40K tournament we hold in Standish, Maine. It's not big by comparison to the tournaments that are famous but big enough for us and always draws a great crowd. My poor performance on the day made it obvious that my list needs work, which sucks. The tournament is in November, about a month and a half out, and here I am again trying to conceive a list that will hold up through the day (I never go in expecting to win the day), and to do so with regards to what I can manage to get painted in time or already have painted. I hate being in this position.
Daemon Weapons
Despite not doing well in the tournament, I did gather some valuable information. First and foremost, as much as I love the thought of daemon weapons, I won't be using them for the SS4 tournament. For those not familiar, daemon weapons add D6 attacks but if you roll a 1 then you hit yourself with the weapon, gain no bonus attacks and are WS1 for the combat. It doesn't sound too bad at first, the odds of rolling the 1 are low enough, but when this is on a close combat character who spends a vast majority of his life in close combat, those 1's come up and always at a bad time. I tend to overlook it for a while, take a positive outlook and fondly remember those times the daemon weapon just destroyed entire squads. Yet, there are times (more than I would like), where I roll that 1 and things fall apart. Daemon weapons have great potential but are unreliable and I need reliable in a tournament list.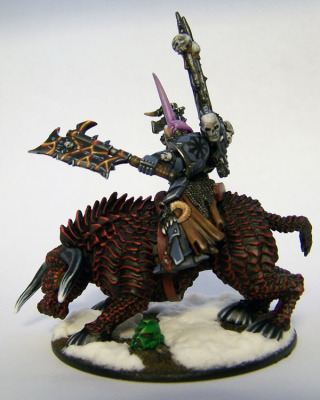 Chaos Spawn
Relating to the daemon weapon is my Spawn. I love me some Spawn. Typically they are a bodyguard for my Chaos Lord, Soulgore, who rides a Juggernaut and has the Axe of Blind Fury. Lately I have also just run Spawn on their own with Mark of Nurgle for T6 goodness. I have found that I get more out of Spawn on their own with Mark of Nurgle than I do with Spawn unmarked playing bodyguard to Soulgore.
Raptors
I also concluded that as much as I love Raptor models, and jump units in general, that it's a unit that just isn't going to work for me. I have been running them 10 strong with Mark of Slaanesh (I5), and the Icon of Excess (grants FNP), with two meltaguns and the Aspiring Champion with melta bombs and a power sword. The unit weighs in at 270pts. I love the concept of the unit but on the table it has almost always underperformed. With a price tag of 270pts you have certain expectations and despite the mark and icon, at the end of the day they are just Marines with jump packs, nothing special. I have run them in cheaper configurations as well but I just haven't had any luck with the unit.
Chaos Space Marines Troops
Yesterday I also played with the idea of using Cultists as the core of my troops. I did have Berzerkers but of course Berzerkers rampage forward to get into combat and hopefully steal objectives. The Cultists were being used as my backfield objective holders and they failed in that role. Typically I use Chaos Space Marines in that capacity, or even midfield, and I will take Cultists more as a plan B. My typical use has proven the better option for me in how I run my lists.
Land Raider
On the positive side of things, I did see that the Chaos Land Raider can be worth taking. I have stayed away from it for a while for various reasons but the primary one being that I have not felt it's value is worth the points. It may not be the best Land Raider going but it's still an AV14 box that lets dudes assault out of it. I did not lose it once yesterday and as a fire base it proved not terrible either. It's certainly not a must-have choice in my lists but it's an option.
Wrap-up
So, I have a lot of thinking to do in order to get a list together for SS4. Yesterday was not my best day gaming but you really do learn more from losing than you do winning and right now I needed some hard truths to help me make a better list for when it counts more. I love my Chaos Space Marines and I want to see them do well.
How about you. Do you get all introspective on your losses and look for your faults or just take it on the chin and move forward?