Thor's Workbench: Repainting Orks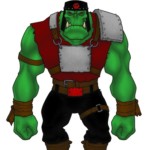 I apologize in advance if you were hoping to see some pictures of what I'm working on. Today's workbench is just ramblings of some proposed work.
I started playing Orks in 2006 and the army was built using a core of models from the awesome game of Gorkamorka. Those Gorkamorka models were already painted when I got into Warhammer 40K and they were the first models I ever painted back around 1996. Needless to say they are not my best work.
I then began adding in more models and building up my army all the while learning how to paint. For the most part my early work on my Orks is reasonable, at least the infantry. At the time I had no idea how many bodies I would need so I spent a great deal of time on Boyz, practicing and learning the paint. The vehicles are another story though. Most of my vehicles are passable but are definitely lacking. I mostly painted them metallic, washed them and dry brushed dirt and grime on them.
Other than questionable paint quality, which I could honestly live with, the bigger thing is consistency in the color scheme for my army. I intentionally painted everything very rag-tag. The color choices are consistent, my warband's colors being black, red and yellow, but how they are applied is varied. Again, this was intended at the time. I figured Orks aren't a race prone to ensuring all vehicles are one color, clothes on Boyz always the same color, etc. Since then though I have built and painted three other armies, all of which follow a consistent color scheme thoroughly. I have also seen many Ork armies over the years that follow a consistent paint application and I admire the cohesive look of the army when done that way. It may not be Orky in a fluffy way for everyone to be very uniform appearance but it looks great none-the-less.
As the title of this article suggests, and by my ramblings, I'm looking to do some repainting on my Orks. It should be a whole lot less painful than it sounds though. I will not be repainting all the infantry in its entirety. What I will be doing is deciding what color I want the armored parts on the Boyz (shoulder pads, random metal plates strapped onto them, etc), and painting just that on them. That will give me units that look cohesive with minimal work. It's just too much to go in and repaint all the pants, shirts, etc.
The vehicles will be the longer process. Most of those will need to be entirely redone so that they are all the same base color. It shouldn't be too bad since most of my Trukks are the old school tiny ones, so not a ton of surface area there. My Battlewagon and two Looted Wagons will take longer to do but they deserve a better paint job anyway.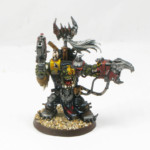 Lastly, my basing needs some touch up. Once I figured out how much basing I would be doing with Orks I opted for a simple rubble basing method. By simple I mean glue on rubble and call it good. I later changed it a bit and used a finer loose rock-like material that has natural color variations. That is also just glued on but looks better because of the variation. I'm certainly not rebasing around 200 models but I plan to clean it up some and add some small touches like dried static grass, vegetation, something to just give it a little bit of life.
This is going to be a bit of an undertaking but I think it will be worth it. Normally I wouldn't consider doing something like this but I've come to realize that even with the new Ork codex that I don't need to add a lot to my army. I already have the core of stuff I enjoy using so I may as well spruce it up some. I really want to paint the new stuff I buy to a higher standard, something I'm now capable of where I wasn't back then, and I want the new stuff to tie-in with the old, hence the renovation. The basing I need to think on a bit. I want to do new units with better basing but also not so drastically different from the old that it seems out of place.
I will be documenting the arduous process as well so look for those articles coming soon.
Have you bothered to go back to an old army and refresh it some?