How to Play 40K: Overview of the Game
Doing a series on learning to play Warhammer 40K is an idea I've had for a while now. I really enjoy giving to the community, and helping players out. I felt this type of series was something missing from the blogosphere. You will find no shortage of articles how to maximize your army, tacticas, etc., but very little to help someone out who is thinking about getting into 40K, or is new to the game.
---
If you've stumbled upon this then you're probably considering getting into the game Warhammer 40K, or you're a new player. I wanted to explain the game a bit to help you decide if it's the right game for you. I don't mean that in any sort of elitist way either. Simply that not all games are for every person, and it comes down to time, money, and what you want out of a gaming system. I'm also not going to over-explain here either. Odds are that you already know a bit about the game if you're reading this.
40K is, First and Foremost, a Hobby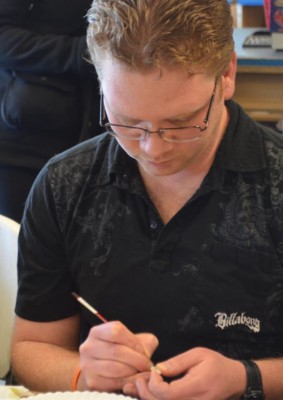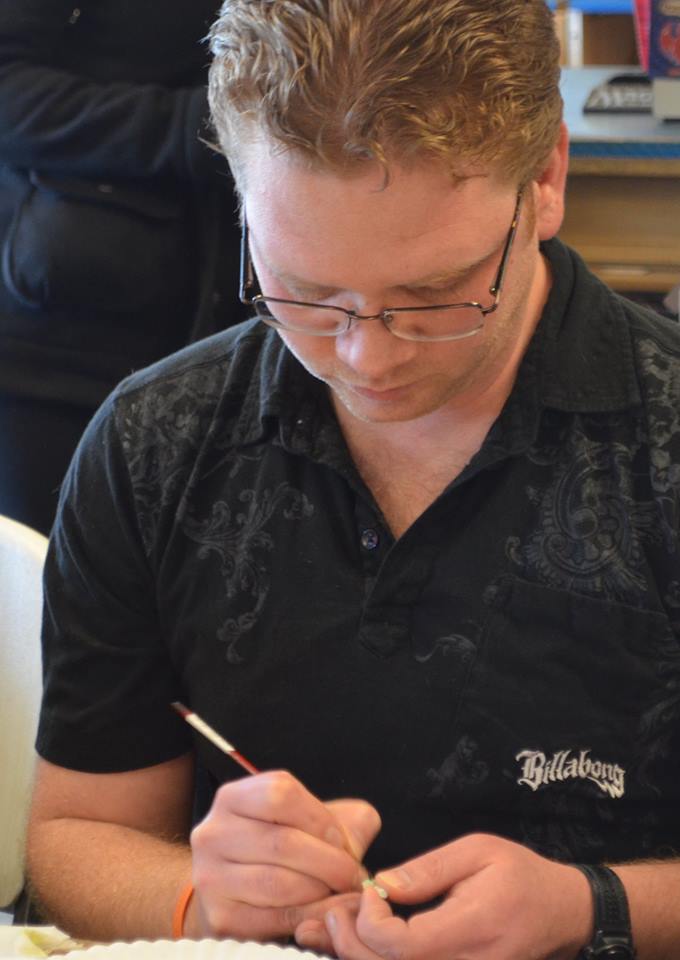 This is a contentious point with some people, but ultimately Warhammer 40K is a hobby. There are games that are cheaper, with tighter rules that are easier to learn, and faster to play. There is not, in my opinion, another game that is so hobby focused, barring maybe historical wargames.
If you do not enjoy modeling (converting, sculpting, building), and painting then 40K may not be the best fit for you. You are going to do a lot of hobby work to get your army on the table. If the hobby is just a means to an end for you then 40K will be a short-lived venture. The people who stick with 40K, and have played it since its inception, are those who have embraced all elements of the game. Those who only enjoy 40K for the game, and not the hobby, are the people I see enter and leave the game just as quick.
Warhammer 40K is not Cheap
I will not tell you that 40K is a cheap affordable gaming system. To give a quick idea of cost, the core rules for the game will cost you $100 new from Games Workshop. The rules set comes with a book explaining the background, and history of the game, as well as a book full of painted armies and models. Still, that's a hefty investment up front. You can always hit up eBay to find just the rule book cheaper, or buy it digitally for $40, but that's just the rules, no fluff.
Other than the rules, you also have to buy the codex for your army to get those rules. A codex will run you $70 for a physical copy, or $38 digitally. Then you have to buy the models for your army, and it all adds up quickly.
I can't really place a dollar amount of how much you will spend on the game, but there are definitely far more affordable games to get into.
I'm not trying to scare anyone off. There are few hobbies that are cheap. There are also more affordable games to get into. I emphasized get into because I find even those games that have little upfront costs will still cost you a fair amount in the long run as you build up your collection. Those games are generally still cheaper, but not as much as you may think.
There will always be expenses in a gaming system. There's new rules, new models, etc., but at some point you will have a good-sized collection, and the expenses trail off. At this point I really only buy the new rules, and a few new units here and there. My expenses are pretty minimal.
Lastly, eBay is an amazing resource for new 40K players. Because it's such a popular game you will find a lot of auctions for almost anything you need. When you're starting off, and need everything, you can't go wrong with eBay. It will really minimize your costs.
The Learning Curve
I feel that the core rules of the game are pretty simple. Learning how to move your models, shoot with them, and get into close combat is a relatively straight forward affair. That being said, the core rules are around 100 pages. There are a lot of fine details in the rules that have a large impact on the game. Unlike other smaller gaming systems that have short core rules, and then more rules that come with the stuff you buy, you really have to spend some time with the 40K rules learning them; there's no shortcuts here.
I don't feel the rules are overly complicated, or hard to learn. However, there is a lot of depth to the rules that can take some time to grasp. There is no 5 minute primer.
How the Game Plays
Warhammer 40K is what I consider a squad based combat game. I don't know if there's some official term that's used, but that's how I refer to it. By contrast, games like Warmachine/Hordes, Malifaux, and Infinity are skirmish games. A skirmish game focuses on less models in a looser format, each man/woman for them self. What I call a squad based game focuses on units of models (squads), that form up into a single army. Instead of having 10 models running around on their own you will have, for example, 8 squads of 10 models running around. The focus being more on the army composition, and less on individual model choices.
A game of 40K is played by one player performing all his/her actions, and then the next player doing the same. After both players have had their turn, you then proceed to the next game turn. The game does have less interaction in your opponent's turn than other games. A lot of newer skirmish games have a lot of interactivity in all phases of a turn for both players. This isn't so much the case with 40K; it's a more traditional approach to player turns.
Army Composition
The general game-play of 40K is very tactical in nature. In order to win a game of 40K you really have to have a good command of your entire army, and have all the components work well together. You are not relying on a single model to win the day for you.
There is a lot of strategy involved in creating your army. Where other games will let you choose the models/units that go into your army, 40K will give you further options within that. Models and units are not stuck with a set of weapons. Instead you will have a lot of options and choices to make, allowing you to customize and refine how a model/unit operates in a game. When you take this level of customization, and extend it across the entire army, it allows for countless ways to play any single army. Few other tabletop wargames give you this level of strategy with army creation.
Game Length
Games of 40K are generally not short. I would say the average game of 40K between two very experienced players will take around two hours. A game between two less experienced players could take anywhere from three to four hours. It's not a game you knock out in 30 minutes. Despite the games being longer, I don't think that they feel dragged out either. As noted prior, it doesn't have the same back and forth that other games have, so there can be lulls for a player, but I don't find it overly much to the point you find yourself bored waiting.
The 40K Universe/Setting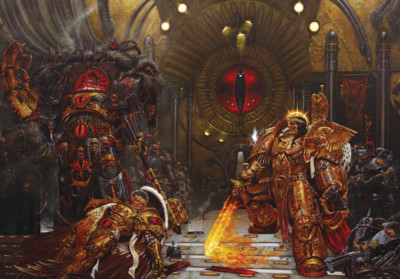 Warhammer 40K is 30 years old, and has an amazingly rich and deep history. The history of the game is pretty universally agreed upon as being one of the best there is. There is a lot that sets the stage for 40K, and the narrative of the game is amazing. Each army has its own history and story, and those are also very well done. If there's one thing that the game does very well it's that it pulls you into the setting, and places you in the battle through the eyes of someone there.
For me it's the background of the game that really captivates me. It moves 40K from just being a game to a living piece of fiction. These armies waging war aren't just fighting for the sake of bloodshed (though some do!), but for survival and dominance. There is cause for war, and nobody really holds the moral high ground in this universe. Some may feel their cause is just, and that they represent "good", but the reality is the good are just as cruel as those they oppose.
Summary
I just wanted to hit some high points in this first part of the series. This article is by no means meant to be conclusive. In short, I would describe Warhammer 40K like this. It's a strategic wargame focusing on squad based combat in a very in-depth sci-fi setting that plays out in a very cinematic manner. It's not the most balanced game, the cheapest game, or fastest game to play, but it's an extremely rewarding game that's easy to embrace, and you will find yourself coming away from games with stories you will tell 20 years later.
From here I will dive into choosing your first army, and hopefully walk you through the process of learning to play Warhammer 40K.