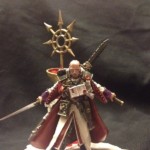 This model has been the bane of my existence for quite some time. His name is Murphy, because what can go wrong will go wrong. I have actually had this model for…holy crap…12-13 years now maybe, I am starting to feel old. I think I purchased him in middle school, I graduated college about 7 years ago to tack on high school and probably a year for middle school, yep that is about right. When I got out of college my parents shipped a bunch of my old stuff to me when they cleaned out my room and this guy was in there. He had a paint job on him from 12 years ago as well. I have had him on my hobby board since the start of this year to clean up and paint. He is an old Eisenhorn model from inquisitor if any of you guys remember that game. Honestly, it is probably one of the best games GW ever put out, I still have my inquisitor rule book, and if it didn't now cost 50+ bucks a model I would eagerly be collecting the whole range of these guys.
Here he is in all his glory. There are still quite a few finishing touches to make, The bowl of blood still needs several coats of paint, the chaos star and the blood itself needs finishing. I just threw the paint in the bowl to see where the blood was going to pool when i throw in the final effect. The plan is to have the blood running in the crevasses of the stone. I am going to mix some red ink and water effects to get it moving then will add any appropriate gore and blood.
There was a lot more that could be done with this guy but I had to throw in the towel today. At one point his cloak was completely finished other than the planned freehand when all of a sudden a bright blue slash of paint went across the back after repainting I decided against taking it any further. Then the tip of the airbrush you guessed it bounced off my shoe during cleaning and into the great abyss of my office carpet. The spear broke a half dozen times. The base collapsed multiple times, attaching him to the base with the last bit of glue I had, a kind a don't normally used caused his boots to whiten forcing a repainting. The material I used for the stone didn't keep primer and at one point during washes rolled up and came off. It goes on. But anyway here is Murphy in all his glory, lacking just a half hour or so of work.
I honestly don't know if this guy will stand a chance in the competition even after the touch ups, but I am looking forward to throwing him in there anyway, you don't get to see these models much anymore and when you do they are usually not painted or painted to a poor standard.
Just a few more things on my list for the standoff. I am hoping I can find a replacement airbrush tip in time to seal off the pigment sitting on my entire army. After that I need to do some more work on Strakken and name my damn titan and get that on his scripts. 2 weeks left and things are looking pretty solid on all fronts, thankfully it doesn't look like I will be painting up to any deadline the night before.