January 21, 2015
Affordable Hobby Work Light That You'll Love (Review)
I was reading an article by Dave from Wargaming Tradecraft about Lighting Your Hobby Area. That article is one I read a long time ago, back when it came out on 2011. At the time I thought I had a good hobby work light setup. So, I didn't really let his advice sink in, or truly see his examples.
There I was, about four years later, returning to his article and wondering why the hell I just skimmed it so quickly before? Since that article came out I had moved my painting space to a dedicated area, my office, which is great, but the area is also far less lit. I lost all the natural lighting I was used to.
I was finding that my hobby lighting solutions just weren't really working out and I tried a bunch, like using small lamps with CFL bulbs, daylight bulbs, and also LED lights. Nothing was really cutting it.
So, after rediscovering Dave's article I resolved myself to getting a better hobby work light to paint with. Now, I had to find one…
Finding a Hobby Work Light
I took to Twitter to chat with Dave about lighting solutions. Greggles jumped in on the conversation with a damn nice hobby work light suggestion, but it was well out of my price range. I'm sure it's worth it, but I didn't have the money. Plus, I'll admit, I can be a bit cheap.
Dave suggested the Normande Daylight Clamp Lamp
. It was close to what he uses for a hobby work light so I checked it out.
It was reasonably priced and it had great reviews on Amazon. I don't know about you, but I take purchaser reviews seriously
. I probably spend more time reading the reviews on a product than I do researching the product itself.
After a few days of consideration, I bought it off Amazon.
First off, I don't buy much online, which seems odd considering I'm online all day long as a programmer. I've only bought a few things off Amazon, so I was impressed when I picked free shipping on the 12th of January, with an arrival date of the 19th of January, and it showed up on the 14th, just two days later! Props to Amazon.
Normande Daylight Review
As you can see below, the Normande Daylight has a magnifying glass built it. It's a neat feature, but not why I picked it up; though I can see that being useful for some hobby projects, less so for painting.
Then again, I may find myself using that magnifying light sooner than later as I'm not getting any younger…
The big reason I got the hobby work light was it has fluorescent 22W light, which is equivalent to a 150W incandescent light. The arm setup also gives it a 42″ reach and is fully adjustable. It tilts from the base, where it fits into the table clamp, midway up the arm and at the light head, which also rotates as well as tilts.
The huge range of motion is something my old setup seriously lacked. I had to lean into the light all the time. With this, the light comes to me, so I can sit back comfortably and see what I'm working on.
It's also great for tilting to get good lighting if you like taking pictures of your models as you work on them. I do this quite a bit when I'm actively working on something and looking to share it on social media.
Here's two recent shots I took under the light to share on Twitter.
The light is primarily metal. In fact, the only plastic on it is the adjustments knobs. That wasn't something I was paying attention to when I bought it, but I'm glad that's the case. I've bought quite a few tools over the years, and the ones that are 90% plastic don't last very long at all.
Anyway, with the all metal construction on the light, it's a pretty sturdy setup. I move the light around a lot, and without thinking about it, and never once have I felt the light was flimsy or anything.
Every now and then I find that I have to tighten the adjustment knobs, but that's typical for something that gets moved around a lot. That being said, the light stays where I put it, which is perfect.
The Lighting Setup
So, I got the hobby work light all setup, after rearranging my painting area a bit. The clamp on feature is great. However, you need a good 10″ of clearance behind the light to allow for arm movement. I had my desk against the wall, so that wasn't working very well.
Then I tried the light on the side. That worked, but it also limited some of the light angles that I would need (hard to explain well). I decided to move the desk perpendicular to the wall and leave it on the back.
Pardon my messy desk. I clean it up after every project, but once I'm in the middle of something, that Helbrute you see, all organization is abandoned.
Anyway, you can see how dim the room is and how well that Normande Daylight is lighting my painting area. It's amazing compared to what I was using before. My previous lighting would only light maybe half that area, and lacked the range of motion this has.
The light on this is also brighter and cleaner, making it much easier to work by and the colors are crisper. It's just a much better light to work with on all fronts.
Here's another shot showing how well it lights the painting area. I took this one in 2018, after moving my desk back against the wall again, and clamping the hobby work light to the side. It just made more sense in terms of space.
So, despite having a large range of motion, and the light itself being rather long, it does work pretty well in a tight space.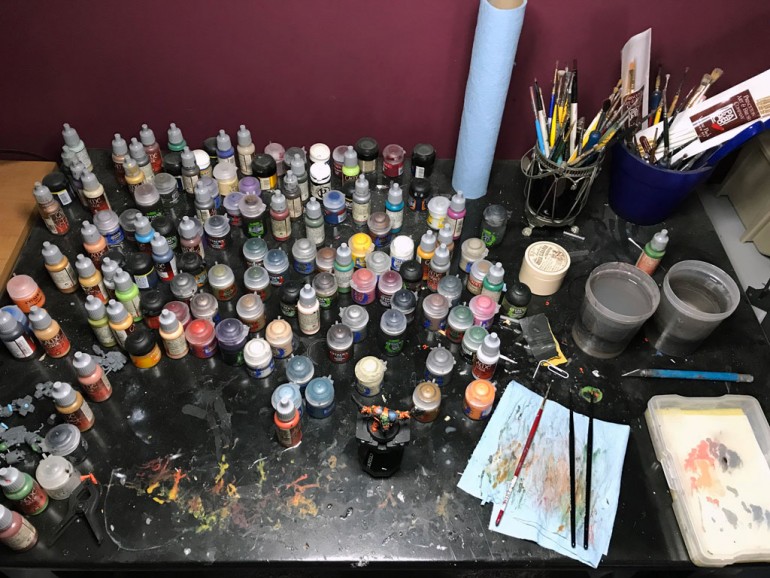 You can see that everything on my messy desk is well lit and that's with the light about 3 feet above the table in its resting position.
This is also the only light I use. I know some other painters will setup additional lights, to illuminate their models from different angles, but I haven't had the need with this one.
Final Conclusion
While I may not have had this hobby work light for very long, it hasn't taken long to realize it's a great light, and a huge improvement for my painting*. I'm able to see far more easily what I'm working on and colors are far more true. You don't realize how poor your painting lighting setup is until you've upgraded.
If you are after a good hobby work light that won't break the bank then definitely check out this Normande Daylight Clamp Lamp
. Trust me, spend a little money on your lighting and you won't regret it. I'm a real stickler on where I spend my money and this was so worth it. Hell, I'd buy this as a gift for someone if they needed a good light.
However, if you're in the market and aren't wanting to spend that much money, then check out Ottlite
. I know a lot of hobbyists swear by them, and they are priced more affordably.
Speaking of hobby supplies, I've got an article covering my list of must-have supplies. I also have a list of supplies that every miniature painter needs as well.
What are you using for lighting while you paint?
Normande Daylight Clamp Lamp Review
Price -

9/10

Setup & Useability -

10/10

Quality -

9/10
Summary
Normande Daylight Clamp Lamp is priced very affordably for a hobby work light. It's easy to setup, and it will really improve your lighting setup for miniature painting.