Having now filed both tracks enough to fit them I glued them to the vehicles hull, which despite my best efforts is still slightly warped.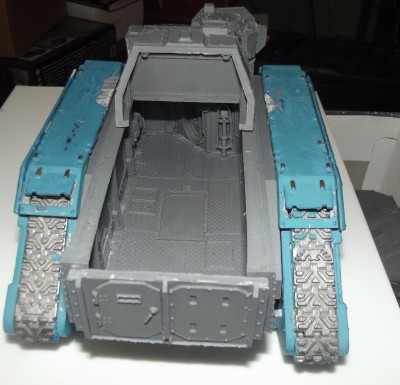 Now though, I can loose-fit the remaining parts to get a glimpse of the finished model.
Now that is looking far more promising even if it does highlight just how much I need to do to get this model ready for battle.
I need to fill and smooth the outer track armour (I will leave some 'battle damage' when I do this), straighten out the upper track guards/missile launcher mount, find alternative parts to replace those that are missing, and add some additional embellishments to try to hide the problems I cannot fix through normal means. As for scale:
These comparison pictures taken with my Macharius Vulcan tank (which shares the same track setup under normal circumstances) shows just how small the differences between the Forgeworld tracks and my alternative are.
A Glimpse at Some Other Projects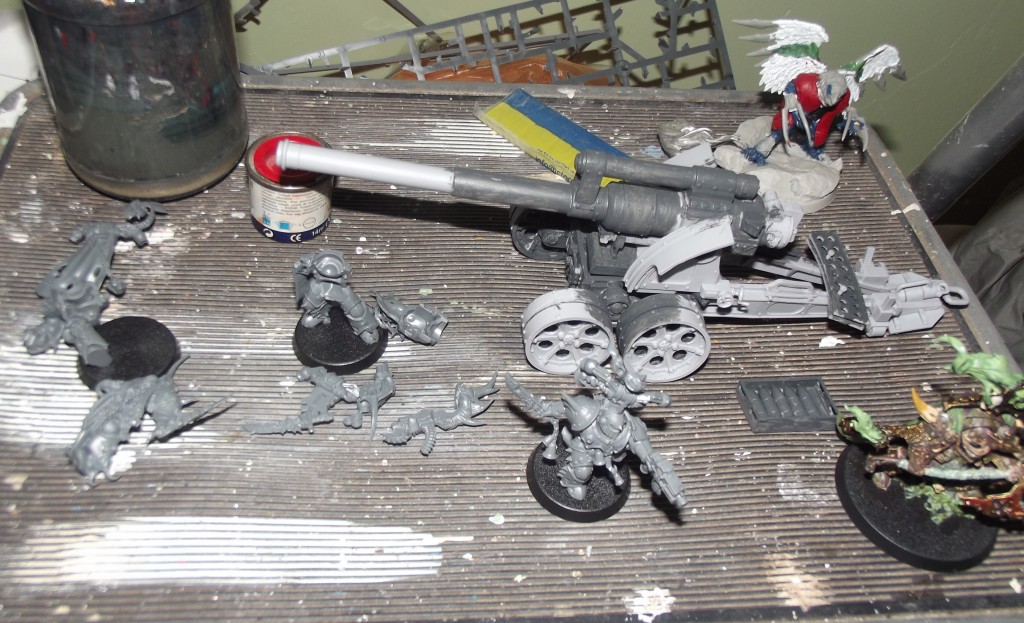 A small look at my improvised work area – as due to refurbishments I am using this, as my normal area is inaccessible.
On this we have a trio of the Dark imperium Plague marines, an Earthshaker carriage (with magnetised gun so it can be removed for transport), a converted Chaos sorcerer (an updated version of one of my old character models) made from a hordes circle oboros razorwing griffon.
Green stuff and enamel paint also handy and ready to serve their purposes – filling gaps and under coating stubborn resin parts respectively.
A close-up of the Lord of Contagion from the new box set. I still need to give him a wash (purple or brown hmm…), and decide how to handle his base. He was painted in my Nurgle colour scheme.
Armour: Kislev Flesh undercoat > P3 beaten purple + GW castellan green liberally drybrushed over the model mixing the colours as they go > Lustrian undergrowth drybrush > P3 blighted gold on trim and chainmail > black on exposed pipes.
Robes: Warboss green undercoat > Lustrian undergrowth drybrush.
Horns: Zamesi desert undercoat > ushabti bone > lustrian undergrowth in recesses.
Weapon: Black undercoat, P3 umbral umber on haft, ushabti bone + Waystone green on bandages. Axe head is blighted gold, skull ushabti bone, Warplock bronze on power plant. Spiritstone red lightly brushed over axe blade.
Flames: Warboss green, drybrushed with scorpion green
Chains and banner: Blighted gold over a black undercoat.
Nurglings: Scorpion green drybrushed with lustrian undergrowth.
Belly: P3 narls green added to the paints used for the armour.
A lot of colours and work but I think the result is worth it. Although the base needs work, but I may hold off and unify the whole group on that front, and I need to test to see if a wash would enhance the model further.
Back to the Praetor
I still intend to have this model up to scratch and painted by the end of August. Gaps need to be filled, armour needs to be repaired, parts need to be straightened and reinforced, as well as alternative parts needing to be added.
It can then join our end of campaign (see The Battle for Mirum Ostentum, also our send off to 7th edition) apocalypse game.