After I finished painting my Thorns of the Briar Queen I decided I needed to work on something different – a palate cleanser. I've been playing since Feb. 2017, and since then I've painted up 5 warbands. So, it was time to take a break, but do something productive, so I made some terrain.
Disclosure: Some of the links below are affiliate links, meaning, at no additional cost to you, I will earn a commission if you click through and make a purchase. The commission earned helps maintain this site.
I had a bunch of random things around that I figured I could turn into Warhammer Underworlds terrain in short order.
The first thing I did was to cut some plasticard into the appropriate hexagon shapes. Plasticard is something any scratch builder should have on hand.
Anyway, from there I just threw things together. Seriously, my desk explodes into pure chaos when I'm scratch building. There is no plan and no objective other than to make something cool.
In the end I had 5 terrain pieces I liked.
Warhammer Underworlds Terrain Gallery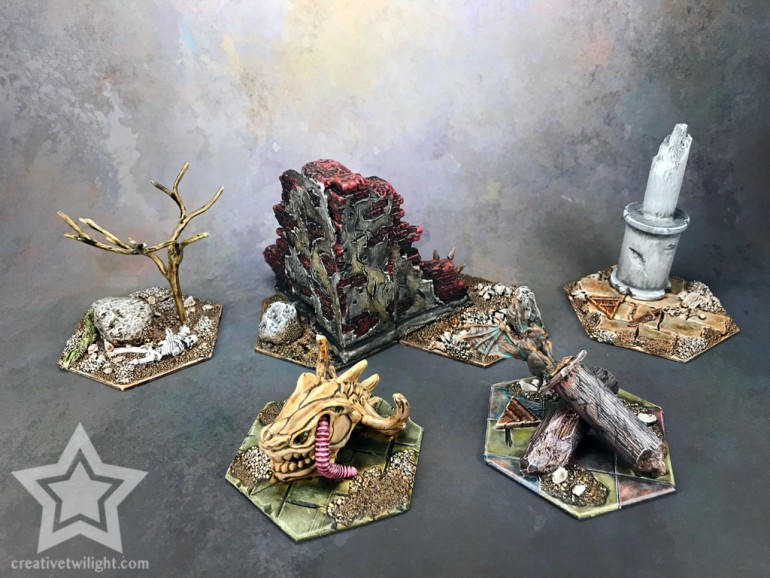 Forgotten Warrior
Courtyard
Defiled House
Video
Prior to taking pictures and sealing them, I also shot a little video of the terrain.
Painting Thoughts
Oh, you may have noticed some mold lines on that stuff, especially the wall and skull. Those are made of that cheap, rubbery stuff – you know what I'm talking about. It's a nightmare to remove those mold lines. I thought I got them all until I started painting, and at that point I said fuck it.
Overall I'm very happy with what I did. I'll be the first to admit that not everything worked as well as I'd have hoped, but that's fine. I went into this as a fun project, no pressure, no obsessing over every small detail, just something enjoyable to do. I've always enjoyed making terrain for that reason, I let my guard down and just get creative – for better or worse.
I painted each piece unique for the sake of experimenting and learning. I could have done them all to more closely match one another but where's the fun in that?
I did, however, keep them all in muted tones. I didn't want anything too bright or too warm. The Warhammer Underworld boards are also more muted colors, so I figured this way they'd work with the boards even if I didn't paint them to match up exactly.
The other thing I did with these terrain pieces was to paint them almost exclusively with washes, glazes, and dry brushing. Again, experimentation was the order of the day, so I like to mess with layering colors to create interesting tones, and washes and glazes are great for that. Not all experiments worked, but that's the point after all – to try, fail or succeed, and learn.
Conclusion
There we have it, some new terrain to use in my Warhammer Underworlds games. I can't wait to try these out.
There's also a good chance I make some more of these in the near future. I had a great time making these. They're almost like little dioramas for the game.
If I do, I'll probably setup a proper template for cutting out those hexes. I didn't do too poorly on the ones above, but having a better system for future projects would be helpful.
Also, it's worth noting that you can buy Nightvault terrain. It's actually what sparked my idea – seeing the new terrain.
The price is actually very reasonable as well; I was surprised.
So, if you want some cool terrain, but you don't feel like making it, then you've got another option.
Hope you enjoyed these little terrain pieces and if you have some of your own then I'd love to see them.
Thor's Warhammer Underworlds Warbands