Miniature Hobby
Modeling, painting, sculpting, miniature showcases and all things related to this great hobby of miniature wargaming. We also cover terrain, basing and more.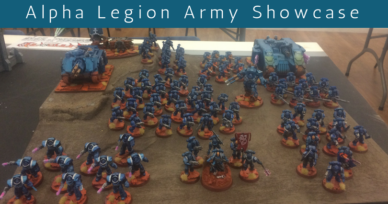 Hello again. Android here with the first of my new army progress updates. After stagnating with my painting over the…continue reading
Hobby Tutorials
Hobby tutorial articles teaching you how to do a range of things like painting, basing, building terrain and more.
Now that the skin is painted, it's time to move on to the armor, and everything else really. The skin…continue reading
Editorials
We all have opinions and these are ours. Healthy discussion encouraged on these articles.
Greetings Wargamers and Hobbyists, to what I am sure is my first product review on this site! Recently I was…continue reading
Gaming
Tons of battle reports, including Warhammer 40K, Warmachine and Age of Sigmar, as well as tips and guides.
So, this sunday I started a narrative campaign of Hinterlands (the unofficial AoS skirmish ruleset), and I thought I could do…continue reading
News & Community
Wargaming news, as well as community news from fellow bloggers, and our blog.
Hi guys, Android here. After my last article I thought I'd follow up and consolidate on those rumours with the…continue reading