March 11, 2017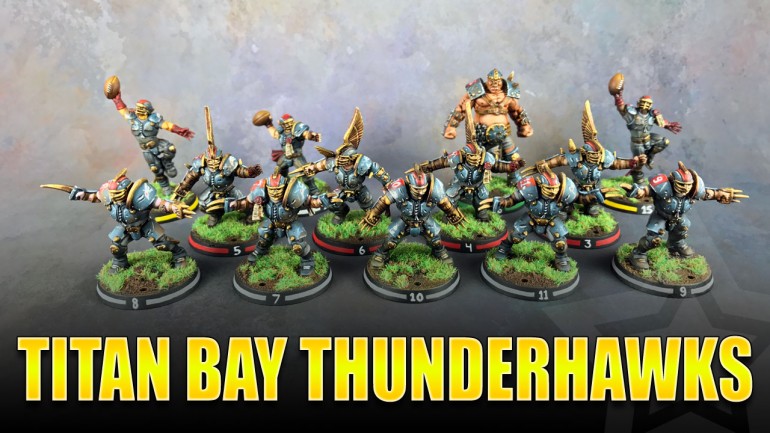 Human Blood Bowl Team Painting Showcase (Titan Bay Thunderhawks)
I began working on this team as soon as Blood Bowl came out, so end of November. It's been slow progress on the team since then, but I also approached it that way.
I wanted to step back from the assembly line painting of Warhammer 40K, and focus on working on a model or two at a time to a higher standard.
So, it took me 4 months to paint 13 models, but I had a lot of fun doing it, and I'm happy with how the team has turned out.
Titan Bay Thunderhawks (Human Team)
I came up with the team name for my Human team as a result of the paint I use for the team, Thunderhawk Blue. I was trying to decide what color to paint the team and was having no luck. So, I started browsing the paints at my FLGS and saw the Thunderhawk Blue. I really liked the color so I grabbed it, and that's how the team came to be.
For the team logo I decided to base it off of the Seattle Seahawks logo, but more simplified considering the scale it would be painted.
Lastly, I decided to not do a clean look, which I do with my Chaos Marines, but something that looked like the models were in the middle of a football game.
So, I did some paint wear, armor damage, dirt, etc. Pretty simple and basic stuff, but it really made a difference in the end.
First is the team pictures, but below are shots of each position grouped together.
As always, click for a larger view.
Linemen
Blitzers
Catchers
Thrower
Ogre
If you're interested, you can read my tutorial on painting the Ogre.
The End
I've had a lot of fun working on the team, but it's always nice to finish a project too. I painted up the tokens later, and you can see those if you like.
Also, if you aren't playing Blood Bowl then you really should be. I did an article about just that, why you should be playing Blood Bowl.
Oh, I also have an Undead team and a Necromantic team as well if you want to check those out.
Blood Bowl Stuff