I've been itching to play Ogres in Blood Bowl for quite a while. Basically, since 2016 when the game was re released. However, there's no team for Ogres and we only have 2 Ogre models to date from Games Workshop, well one is Forge World. So, that leaves doing conversions for an Ogre team.
Disclosure: Some of the links below are affiliate links, meaning, at no additional cost to you, I will earn a commission if you click through and make a purchase. The commission earned helps maintain this site.
I bought myself the Gutbusters for the Ogres off of Amazon. The box is perfect in that it has 6 Ogres and they're pretty naked, leaving lots of easy room for conversion and sculpting to turn them into Blood Bowl Ogres.
That's just what I did and that's what I wanted to show you today. I figured I'd do a showcase of them before priming and painting in case anyone else is looking for a good way to convert up an Ogre team.
Blood Bowl Ogre Conversions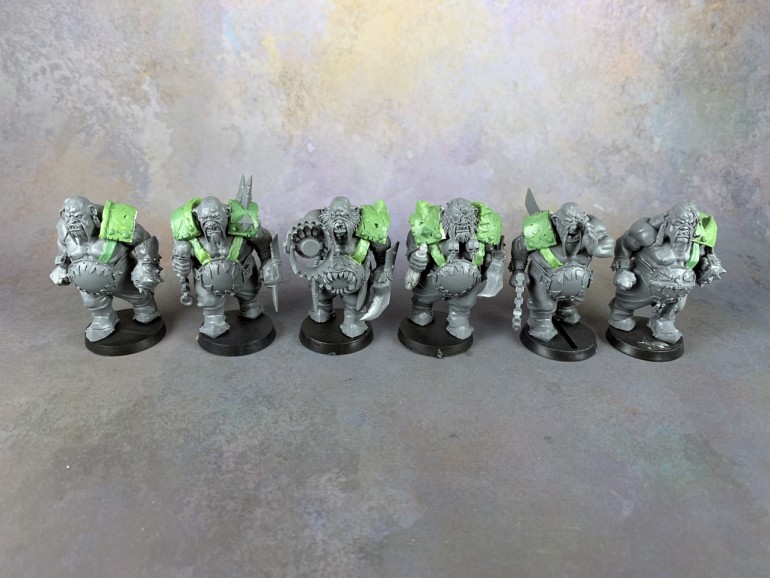 Ogre #1
Ogre #2
Ogre #3
Ogre #4
Ogre #5
Ogre #6
Video
I also shot a little video showing the models too.
Conversion Thoughts
I'm really happy with how these big dumb brutes came out. It was just a matter of some simple stuff to get them ready for Blood Bowl.
The element I wasn't sure on was the shoulder pads. I knew I wanted something consistent in size and just sculpting them on there would have been a bit trial and error.
What I did was take plasticard (about 1mm thick) and cut rectangle strips. I bent those over the shoulders and glued them down. I then went over that with green stuff to thicken them up some, create scratches and gouges, and add in some details.
I'm very pleased with how those shoulder pads came out and they're consistent Ogre to Ogre – just what I wanted.
I opted to not bother with helmets on any of the Ogres. I think a normal style helmet looks lame on them and I wasn't feeling up to working out something I would like.
Also, getting any sort of consistency would be tough. Add in the facial hair most of the Ogres have and I felt I was better off as-is.
Lastly, I sculpted everything so it's battered and worn, which not only is fitting for Blood Bowl, but especially Ogres. It's not as though Ogres are winning games by scoring touchdowns.
The fun thing with sculpted battered stuff is you aren't aiming for perfection and smooth surfaces, which suits me just fine.
Conclusion
I'm a big fan of Ogres and I'm glad I've got a team going for the next season at my FLGS. They're a team that you just have to have fun with because you're not going to win many games and the dice will always let you down on critical plays.
I do also have the team fully painted now if you want to see some pretty pictures.
Any other Ogre team lovers out there?
Blood Bowl Stuff